Planning an event is often stressful even without thinking about the technical stuff and logistics that go into it. It is your job, as the planner, to ensure the event is as exciting as possible. Whether you are planning a wedding, graduation or Christmas party, one of the grand things you can do is rent a photo booth. Photos are an important part of every party and event. Getting a professional photo booth will help preserve memories of the event and offer the perfect wedding favors.
How to choose the perfect photo booth
While photo booths will be a great addition to your event/party, you must not hire just any photo booth or from just any rental company. There are various considerations you need to make to ensure you have the perfect results. Here are a couple of factors you need to consider when hiring a photo booth.
Size of the booth
Photo booths come in different sizes. You need to know your needs in order to pick the perfect booth for your event. Bigger is always better mostly because it allows for a larger group of people to take photos at the same time. If you know your event will attract a great number of people then you should consider getting a bigger booth. Needless to say, a bigger photo booth will definitely be more expensive than a small one.
Print quality
Nobody wants to take home blurry photos. For the photo booth to hit, you must get one that has a high-quality printer. Most rental companies don't pay a lot of attention to the print quality. It is your job to test the printer before hiring. Having a high-quality camera is not enough to produce high-quality photos. That is why in addition to considering the camera you need to look at the printer. Getting samples of the work produced by the company is crucial before committing to hiring their booth.
Reputation
What other people have to say about the quality of services offered by the photo booth company matters. Online reviews and discussions with family and friends who have used the service will help you know if you are making a wise decision or not. It is better to learn from others.
Customization
Is it possible to get a customized service that meets your needs? You want your event to be unique. For this to happen you ought to find the right photo booth rental company. Discuss your party or event needs with the rental company and let them confirm if they have the ability to deliver what you need. For example, if you are planning a kids' birthday then you need a photo booth that is of high quality and easy for kids to use.
While the above list of factors is not exhaustive, it will help you get started in the right direction when hiring a photo booth. The key is to always define your party needs before proceeding with the hiring.
How a photo booth can add fun to a party
Now that you know how to hire a photo booth, why exactly should you hire one? Needless to say, photo booths are making a comeback and for good reasons. Here are the different ways you can use photo booths to add fun to your Christmas parties, proms or any other party or event.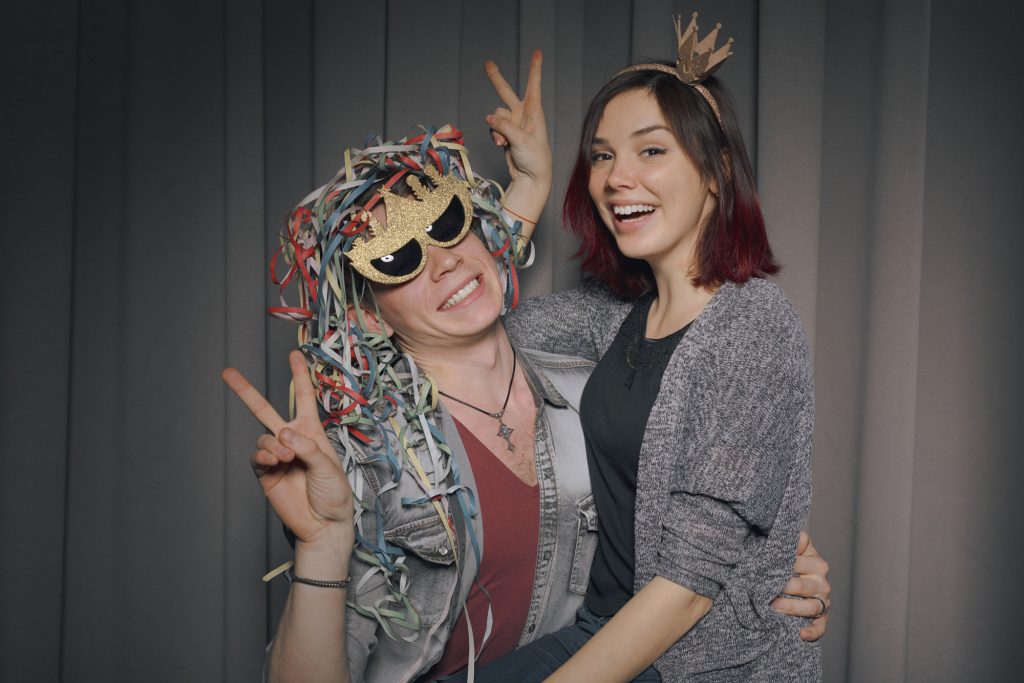 Create the ultimate guestbook
Asking guests to sign a guestbook is tedious and somewhat outdated. When you hire a photo booth, you can get a collection of all the pictures taken at the end of the day. A copy of every taken photo will be kept in the booth. You can then create a guestbook with the fun, crazy and goofy moments your guests immortalized.
Vintage charm
While most of your guests will still take their own photos using their smartphones, a photo booth adds the vintage appeal that draws guests to it. The appeal of holding an actual photo in one's hand never fails.
Allow guests to be spontaneous
Weddings, birthdays, Christmas parties and promos are times to relax and be spontaneous. Most people are not natural in front of cameras. With the photo booth, your guests will be all alone and will be able to relax and act natural thus taking better-looking photos. The absence of a photographer eliminates the feeling of being supervised. People can thus go wild and use the photo booth props. Photo booths are also great in corporate events where people may be afraid of their boss seeing them in a certain mood when taking photos.
Constant giggles for kids
Kids have the most fun in photo booths. They tend to spend more time around the booths than other guests. Photo booths can thus be used as the ultimate distraction for kids, especially at weddings.
Perfect wedding favors
The simple fact that your guests can take their own photos home means you don't have to offer other favors. The frames of the photos can be customized to include your name, date, and other wedding visuals. You can build the ultimate souvenir.
Great entertainment
A great photo booth will offer a fun experience as well as entertainment to your guests. The lighting and effects make anyone have fun in the booth. The experience in the booths is unlike any you can ever get with a professional photographer.
Photo booth operators are available
The best thing about getting a photo booth for your event or party is that you get a professional to operate and guard it against the over-enthusiastic guests. The operator will also ensure the booth operates smoothly and help guests have more fun.
These are some of the ways photo booths can contribute to making your party or event special. While you still need to bring in a professional photographer for other photos, photo booths are affordable and a lot of fun. The only thing you need to do is to make sure you hire the best booth and from a reputable rental company.