Balloons Decorations Toronto
Are you planning on using balloons as part of your decoration during your next party? Balloons can be used to add color and brighten up your event venue. In fact, the best balloon arrangements can bring smiles to everyone at the party. If you need help choosing the right balloons for your birthday, wedding or corporate event, Right Choice Entertainment is here for you. We'll offer you lots of options when it comes to party balloons. Whether you're looking for a unique arrangement that complements your theme or coordinating colors, we're happy to listen to your needs and provide an exceptional balloon décor service.
We can create everything from simply latex balloons in well-coordinated colors to centrepieces and animals. We can even use balloons to create awesome party favors. There are unlimited options when it comes to party balloons. We are happy to supply balloon accessories that your event needs. If you need help choosing themed balloons or picking an arrangement that will complement your venue, we're happy to come in and give our ideas. At Right Choice Entertainment, we've offered our balloon decoration services to all kinds of clients. From birthdays to baby showers, bridal parties and corporate launches, there's nothing we can't do when it comes to balloon decorations.
Themed party balloons for unique events
Are you planning on hosting a princess party? We can come in with themed party balloons to create the right ambiance and make the little girls feel like real life princesses. We can select balloon arrangements that form unique shapes such as stars to complement the theme of your party. We know themed party balloons are hard to find but we'll do all it takes to ensure your needs are met.
Our themed party balloons are made of high-quality materials that once inflated can hold their shape for several days. You never have to worry about not getting value for your money. Having offered our balloons decorations Toronto for many years, we know how to get the job done fast and effectively so you'll enjoy the rest of your party. We can help you incorporate themed party balloons in superhero parties, weddings, and even baby showers. Just reach out to us and let us know what your needs are.
Solid balloons with coordinated colors
Solid balloons are most commonly used in parties. Whether you want them in different shapes or traditional round style, we're here to fulfill your unique party needs. We can help you choose solid balloons that add fun and flair to your décor. In fact, simple solid balloons in a single color can be arranged to add drama and style in formal events. We've used solid balloons in corporate launches where we stick to the brand colors and even design shapes that mimic the product just to add a personal touch to the event. Right Choice Entertainment will help you to transform simple, solid balloons and give them that wow factor.

We have very creative balloon experts who can use the solid balloons in combinations and coordinating colors to give you exactly what you want. If you have ideas of the balloon arrangement you want, we encourage you to explain this to our team so that we can incorporate it and exceed your expectations. We'll handpick the best solid balloons for your event so you never have to worry about issues like the balloons losing shape or deflating in the middle of the event.
Balloon accessories
There are several balloon accessories that you may need for your event. We're here to help you. We know that with the right accessories, decorating the venue with balloons becomes easier and faster. Even the simple accessories like ribbons to hold the balloons can be hard to find especially if you're looking for specific colors. We'll help you find every accessory you need to simplify the balloon decorating process for you
Tips to use balloons in your party décor
Balloons are always a sign of a party. In fact, everyone is embracing balloons in their party and the best part is that there are tons of options to use balloons. People are getting creative and we'll share with you a few great ideas on how to use balloons in your next party.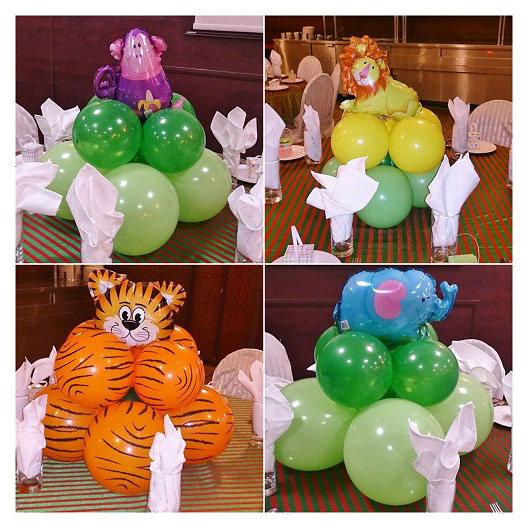 Balloons can be used as a train during weddings. Just combine peach and white balloons and take your portraits to the next level.
You can use oversized white balloons to give your tables some extra height
Another option is to use mini balloons to make a beautiful garland. You can combine bright and cool colors together with some flowers and foliage to make the balloon garland even more attractive.
Consider having a wall covered with balloons. To make this work out best, try and stick to one color palette. You can mix different sizes of balloons to give it a unique appeal.
You can use balloons over the dessert table to make it look even sweeter. Play around with balloons of different colors to give it drama.
Balloons can also work well as a photo backdrop. Just make sure they complement the colors of your party theme. You can use different sizes and styles on the balloon backdrop.
Decorating the entrance of the ceremony with giant balloons is also a great idea. Guests can quickly know they've come to the right place when they get to the entrance. You can pair the balloons with a fun welcome sign to get your guests in the party mood right from the entrance.
Instead of the traditional centrepieces, you can use rows of festive balloons to add glamor and fun to your reception venue. This is a great idea for venues but make sure you use good balloons that can withstand the winds if it's an outdoor venue.
Right Choice Entertainment is happy to provide the best balloons decorations Toronto. Reach out to us and let's discover the amazing ways to bring fun and color to your event.
Serving
Ajax • Aurora • Barrie • Bolton • Bradford • Brampton • Burlington • Concord • Georgetown • Hamilton • Innisfil • King City • Maple • Markham • Milton • Mississauga • Newmarket • Oakville • Pickering • Richmond Hill • Stouffville • Thornhill • Toronto • Uxbridge • Vaughan • Whitby • Woodbridge