Party Entertainment Toronto
Over the years, Right Choice Entertainment has planned hundreds of exceptional parties for children, parents, corporates, and institutions. Entertaining people is essentially our area of expertise. We know how crucial party entertainment is in today's world. Whether you're planning a birthday, launching a new product or celebrating a friend's bridal shower, we bring together entertainment that makes a lasting impression.
Face painting

Tattoo artists

Balloon twisting

Bouncy castles
Ice cream rentals

Party entertainers

Photo booth rentals
We have a very friendly and professional staff happy to serve you. We do all it takes to make your party special. From finding reliable rental services to bringing talented performers and artists, at Right Choice Entertainment, we always pay attention to every aspect of your party. We ensure that safety is a priority by bringing supplies and equipment that are well-maintained. Our professionally trained party entertainment experts will do all it takes to make sure everyone is happy and having fun.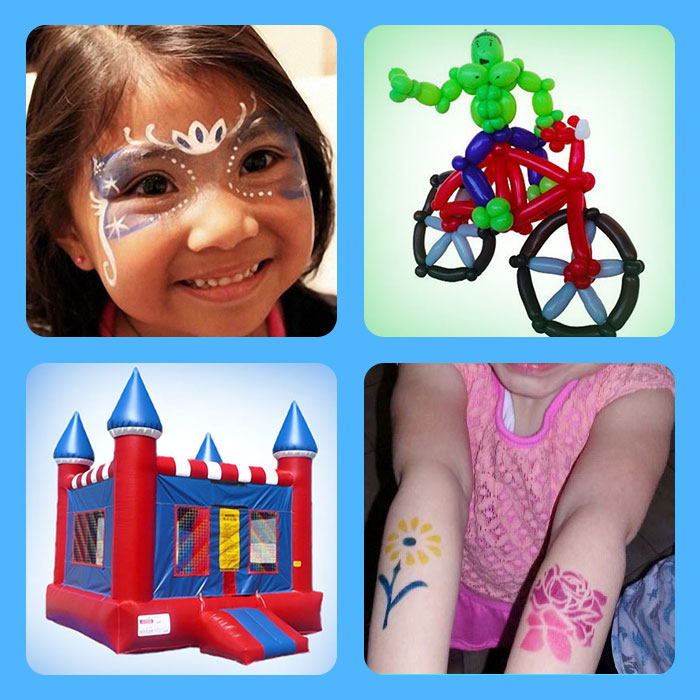 Flexible party packages in Toronto
Have fun choosing from a range of party packages that suit your needs and budget. At Right Choice Entertainment, we know just how important it is for you to find party packages that come complete with all the activities and services you love. For instance, if you're throwing a princess party, we'll bring together the best performers, party supplies, and services suitable for this theme. We'll also consider the age group being hosted when planning your party package. Although most packages are suitable for children of all ages, we are happy to customize each one for you. We even have party packages for toddlers and babies.
We'll take care of every aspect of your party entertainment
Entertainment is the most important part of any event. That's why we don't take anything to chance. From sourcing for the best entertainers in Toronto to helping you with balloon arrangements and decorations, Right Choice Entertainment brings the fun to you exactly how you envision. We offer a wide variety of activities and services to help you plan a complete party.
We serve small and large parties with the main aim of creating memories for everyone in attendance. Right Choice Entertainment is an innovative and creative company specializing in entertainment for different occasions. All our entertainment services are completely customizable so be rest assured that we'll go the extra mile to ensure your specific needs are met. Our team consists of professionals with years of experience in event entertainment. Not only do we love what we do but we're also highly professional and excited about making people smile on a special day. From talented tattoo artists to friendly princess performers and magnificent magicians, we've got it all.
Don't worry about the details
You'll never have to worry about the logistics of the event, especially on matters entertainment. We are very thorough when going over the details to make sure everything turns out to be a huge success. We will go over every aspect of your entertainment from letting you know if there'll be any additional costs to recommending the most affordable solutions for your party. Right Choice Entertainment offers a range of fun options that fit your budget. We'll go over plenty of activities that we recommend keeping your guests entertained.
Host the perfect character party
At Right Choice Entertainment, we offer character parties to many of our clients in Toronto and beyond. Whether you're looking to throw a princess party for your little girl or a superhero party for the boys, we promise to help you make larger-than-life memories. You don't have to turn into a professional party planner to pull off a princess party for your girl. We'll come in and help you handle all aspects of entertainment.
Our party entertainers will text you in the morning of the event just to confirm that everything is in order and that they'll arrive at the venue on time. We always encourage our clients to share any information that may be helpful to us such as the type of space the party will be held in as well as all the activities that they need to be involved in. Our characters will come in with the right equipment and props to complement the party theme and put a smile on your guests' faces. If you're throwing a party in your backyard or a party hall, you can add outdoor games and activities since you'll have adequate space to set up. This is especially a great idea for kids' parties because they love to stretch out in the space. Don't be afraid to incorporate games in indoor parties. We'll show you how to make it work with the space you have and the number of people you expect to host.
Choosing the best party entertainers in Toronto
Caricature artists, balloon twisters, tattoo artists, and clowns are among the most commonly used entertainers in parties. We're able to help you find the best performers in Toronto to fulfill all your party needs. Whether you're throwing a superhero party and need entertainers in your child's favorite superhero costume or you're planning a princess party and you need balloon decorations, we're here to help. We'll show you some quick and affordable ideas to entertain a ton of guests. Tattoos are a fun activity for everyone from the small babies to teens and adults.
With entertain options like a photo booth rental or caricatures, you get to send your guests home with something you want them to remember in a long time. We also have a fat clown who acts as a stand-up comedian for kids. He'll make the kids laugh his fun routine, get them busy with games and story time. You may also have glitter tattoos for the kids in different designs that complement your theme. There are unlimited options of entertainment ideas to choose from. We've done the hard work for you and narrowed down the best entertainment services and performers in Toronto. Reach out to us for more information about our party entertainment services.
Serving
Ajax • Aurora • Barrie • Bolton • Bradford • Brampton • Burlington • Concord • Georgetown • Hamilton • Innisfil • King City • Maple • Markham • Milton • Mississauga • Newmarket • Oakville • Pickering • Richmond Hill • Stouffville • Thornhill • Toronto • Uxbridge • Vaughan • Whitby • Woodbridge