Ice Cream Truck Rental Toronto
When thinking of hiring an ice cream truck for any kind of party whether it's a community event or any other occasion, Right Choice Children's Entertainment is here for you. We've served Toronto for many years and we're proud of being recognized as the leading providers of ice cream trucks in the area. Our ice cream trucks come with unique features to make any event memorable for the host and guests. Our goal is to keep the costs low and strive to offer you the very best service.
Availability and low prices
At Right Choice Children's Entertainment, we are always eager to respond to your invitation whether it's a birthday party, wedding or picnic. It's our goal to bring you the treats and make the event a lot more fun. For instance, if you choose to have an ice cream truck at your local community event, we'll offer you tips and advice on how to make it work best for you. From choosing the ice cream flavors to pricing them right, we'll help you figure it out. Our team strives to ensure that every experience you have with us is smooth and pleasant. You can reserve our ice cream trucks whenever you need it and be rest assured that we'll be ready to serve you.
How it works
When you get in touch with Right Choice Children's Entertainment for an ice cream rental, we will find just the right truck to suit your needs. Our trucks are always readily available to serve our clients wherever they are in Toronto. We will bring you the truck at the right time and place. If you need us to carry specific ice cream flavors, we'll provide them in the required quantities. We have trucks that come fully equipped with the latest music systems to ensure you get everyone's attention during an event. Expect no hidden fees or surcharges from us. We'll only charge you based on what was agreed on in the contract you signed. The fees will be agreed ahead of time to avoid any unwelcome surprises. To be able to serve you better, we'll need you to provide some information regarding your event or project such as the date and time, the number of guests and location. We'll also need the client to give us a contact person who will be in charge of the event. This will help us to recommend the best ice cream truck to suit your needs.
Get all the flavors you need
When you need to rent an ice cream truck, we'll make sure you have a selection of the best ice creams to serve guests or clients. We know most people would only want to select from their favorite ice creams. That's why we always consult with clients before coming up with an ice cream menu, should you need help in creating one. We have extensive experience serving guests of all ages so we're happy to offer you some advice on what flavors would work best for your kind of audience or the community that you serve. We'll offer so many combinations available for your selection. We can even provide additional items upon request especially if you'll be targeting more customers or guests.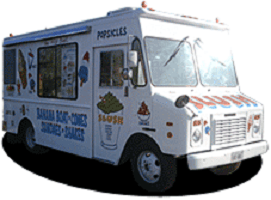 Book your ice cream truck today
Don't wait too long before you book your ice cream truck. We always recommend that clients book early especially during the summer months when the ice cream trucks are on high demand. If you want to book the truck last minute, we promise to do our very best to accommodate your needs. If anything happens before the date of the event and you need to cancel the reservation, we are here to fulfill your needs. We know that issues such as bad weather can make you change certain plans which is why we offer a reasonable cancellation policy.
The best prices in town
Our ice cream trucks are affordable compared to other companies in Toronto. We have an approach of always proving quality services and a diverse range of flavors to suit different needs. We always strive to help you cut down on expenses by providing a cost-effective ice cream rental.
Get the perfect addition for your party by hiring an ice cream truck at Right Choice Children's Entertainment. Our trucks come in a great condition ready to serve your needs. We're here to help you make the process of hiring an ice cream truck smooth and convenient for you. Get in touch with us today for more information.
Serving
Ajax • Aurora • Barrie • Bolton • Bradford • Brampton • Burlington • Concord • Georgetown • Hamilton • Innisfil • King City • Maple • Markham • Milton • Mississauga • Newmarket • Oakville • Pickering • Richmond Hill • Stouffville • Thornhill • Toronto • Uxbridge • Vaughan • Whitby • Woodbridge