Poodle & Doves Show Toronto
Right Choice Children's Entertainment invites you to have a unique party experience together with our trained poodles and doves show!
Our fury birdy family will show you their unique talents in group coordinated activities. The show is highly interactive, enchanting and entertaining for family, friends and all audiences alike. Our wonderful fury birdy babies perform, do tricks, and interact with the whole family making for a warm and memorable occasion; all in the comfort of your home or party place! Your children and guests will be intrigued and amazed! Contact us as openings are limited.
At Right Choice Children's Entertainment, we offer a variety of entertainment activities that are guaranteed to entertain not only the kids but also the entire family. Our services include face painting where you can choose between over 50 designs, princess parties where you can choose between 11 princesses, balloon twisters where everyone will be given their own twisted balloon and a magic show by our experienced magician for maximum audience participation.
Others are superhero parties such as spider-man birthday parties performed by professional acrobats and actors, caricature art, custom balloon arrangement, airbrush/temporary tattoos, supervised pony rides, crown shows and juggling acts by Hiccup The Clown and Fat Clown, bouncy castles, ice cream on our ice cream truck rentals, party DJ accompanied by a high-quality sound system, photo booth rentals, cartoon character visits, singing, and mad science shows.
One of our most popular services is the poodle and doves show. As the term suggests, this show is all about interaction with poodles and doves. The pets are trained to perform different tricks and the guests get to pet them for a truly memorable occasion.
Our Poodles
Poodles are popular because they are the lightest-shedding and most hypoallergenic of all coated dog breeds. This makes them the best option since you will not know who of your guests has allergies.
Despite common belief, poodles are not just sissy cushion-sitters. They happen to be miniature athletes and excel in obedience competition where jumping and retrieval skills are required. They are also agile and do well in obstacle courses where they are required to fly over and under obstacles. They have a strength and a grace that is just breathtaking to watch.
Poodles are smart and trainable, which makes them perfect as show dogs. The dogs are lively and playful and will keep all visitors excited. Poodles can be trained in just about anything, including patterns, elaborate dance routines, complex behavior chains, and hundreds of words. The dogs learn not only from training but also from observing. Poodles are also popular because they are soft and sensitive. They are polite to strangers and are sociable with other animals, which is the reason they are companion dogs according to UKC Classification.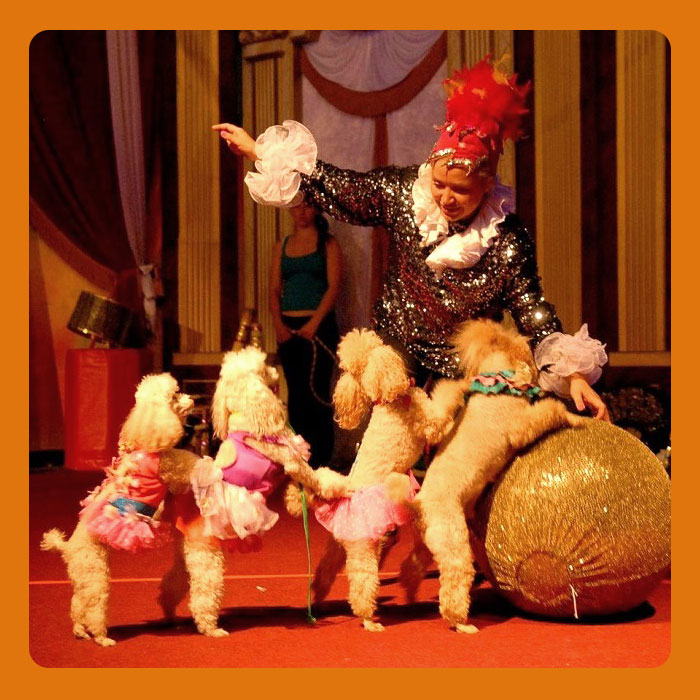 We have standard poodles, miniature poodles, and toy poodles. Our poodles come in a variety of colors from white to black and from gray to apricot, among other solid colors, meaning there is something for everyone. The professional pet handlers will ensure both the dogs and the guests are comfortable.
We take very good care of our poodles. We motivate our poodles with food, toys, and praise. We feed our poodles a diet full of protein and calcium with no meat by-products and no extraneous additives or chemicals. Fresh, cleaning water is available at all times. We groom our poodles regularly to prevent the coat from matting, including by a professional every few weeks. We brush the poodles' teeth daily using vet-approved toothpaste and brushes and give them special dental treats that they can chew on for dental health. We also walk our poodles regularly and keep them mentally engaged through such activities as tracking. Our poodles are spayed and neutered since we are not licensed dog-breeders.
You need not worry about the safety of your guests. Our poodles are vaccinated against rabies, parvovirus, adenovirus, flu, distemper, and other conditions. They are also given preventive treatment against ticks, heartworms, fleas, and internal worms. We ensure our poodles get annual check-ups and blood screens for early detection of diseases and infections.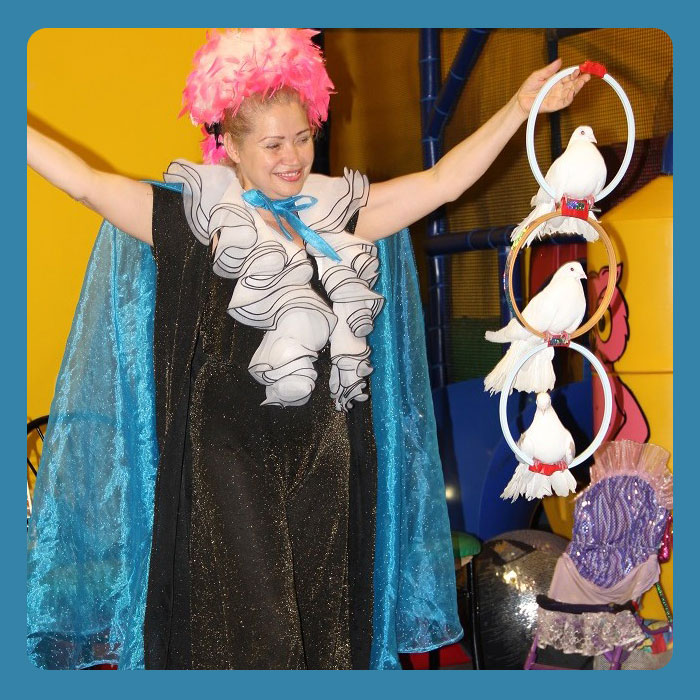 Our Doves
Our doves are also very popular with kids and adults alike. How often do people get a chance to pet a bird? Doves are not as needy as parrots. The birds are fun to interact with and to watch. A dove's cooing is also pleasant and relaxing.
Our doves have been hand-tamed and can even take food from your guests' hands. Our birds have also been trained to showcase their unique talents in group coordinated activities. You need not worry about the big, bad bite associated with parrots. Doves are non-destructive, which allows us to keep them in plastic or wooden cages.
Our doves come in different colors from white, gray, blue, and brown. Although there are hundreds of dove species, we only have diamond and ring-necked doves which are the most popular pet species because of their trainability.
Although doves are susceptible to red mites, tapeworms, roundworms, other worm species, our doves are clean of these pests since they do not stay outdoors and because we clean them thoroughly. They are also clean of respiratory disease and Chlamydia and Salmonella (bacterial infections) common in unhealthy birds.
We feed our doves on pelleted feeds that have been formulated and fortified specifically for birds. We also feed them natural seeds. The birds are taken to avian veterinarians regularly for checkups.
Our Poodle & Dove shows are available all over the Greater Toronto Area. We currently serve Milton, Mississauga, Ajax, Burlington, Concord, Aurora, Barrie, Bolton, Georgetown, Hamilton, Innisfil, Bradford, Brampton, King City, Maple, Markham, Richmond Hill, Stouffville, Thornhill, Uxbridge, Vaughan, Newmarket, Oakville, Pickering, Whitby, Woodbridge, and Toronto. We can hold the Poodle & Dove show at any location of your choice, including your home. This gives you unparalleled convenience and ensures you can afford the show, whatever your budget.
We serve parties of all sizes. Our entertainment services are customizable, ensuring your specific needs are met. Our animal handlers and other professionals have years of experience in event entertainment. When you come to us, you need not worry about logistics for the events – we will take care of everything.
Email us on maketherightchoice.ent@gmail.com, call us on (416) 931-5437, or fill our online form and we will give you a free estimate. We work on a first come first served basis, so book early to avoid disappointment. Once you book, we will send you a scheduled contract containing all the details submitted. Our submission of this contract signifies that the booking process is complete and we will honor the commitment.
Serving
Ajax • Aurora • Barrie • Bolton • Bradford • Brampton • Burlington • Concord • Georgetown • Hamilton • Innisfil • King City • Maple • Markham • Milton • Mississauga • Newmarket • Oakville • Pickering • Richmond Hill • Stouffville • Thornhill • Toronto • Uxbridge • Vaughan • Whitby • Woodbridge