Hiring a magician for your party or event offers a great way for you to heighten the experience of your guests. This is irrespective of whether you are planning a kids' birthday party or a corporate event. There is a magician out there to meet your needs. Some of the best things about hiring a magician for an event or party include being able to cover delays without worries, bring guests together, create background noise for other guests, and offer guests something amazing to remember your party or event by. But how exactly do you hire a magician?
It's good to remember that not every magician has what it takes to add life to your party. How lit the magician ends up being will depend on their specialty. What this means is if you are hiring a magician for a kids' party then you need one who specializes in kids' parties. Here are crucial considerations you should make when hiring a magician.
Experience
The number of years a magician has been in the business will determine how well the act will go. Years of experience offer the guarantee of the show being entertaining and memorable. This is because doing something a magician has done for years will eliminate room for mistakes. The first question you need to ask a magician is how long he has been performing? You also need to ask about what you can expect the guests to see. As the magician answers these questions you need to check if they are articulate, informative, professional and passionate.
Style
Prior to hiring a magician, you need to first determine the style of the event or party you are getting ready for. This is for the simple fact that you would not hire a kids' magician for a black-tie corporate event. You also don't want to hire a street magician for your wedding. The goal here is to match the style of the magician with your event or party. You want to bring in a performer that can stroll the room confidently, interacting with the guests and without making the guests uncomfortable. The style of your event is also what will determine if you need an up-close magician, stage magician or a corporate magician.
Entertainment value
A great magic show involves more than ingenious tricks and props. Most of the time it's all about how well the magician interacts with the guests and captures their attention. How well a magician captures the attention of guests will depend on how entertaining the act is. This is why in addition to considering the experience a magician has you have to consider how unique the act is. The best magicians are the ones who add unique comedy and also involve audience participation. The perfect blend of magic and humor is what makes an act both entertaining and memorable.
Doing your research is the key to understanding the entertainment value the magician brings to the table. Start by going through the magician's website and check out the photo galleries. It is also good to reach out to family and friends to inquire more about the magician. Testimonials and reviews from recent clients will give you more insight into the magician.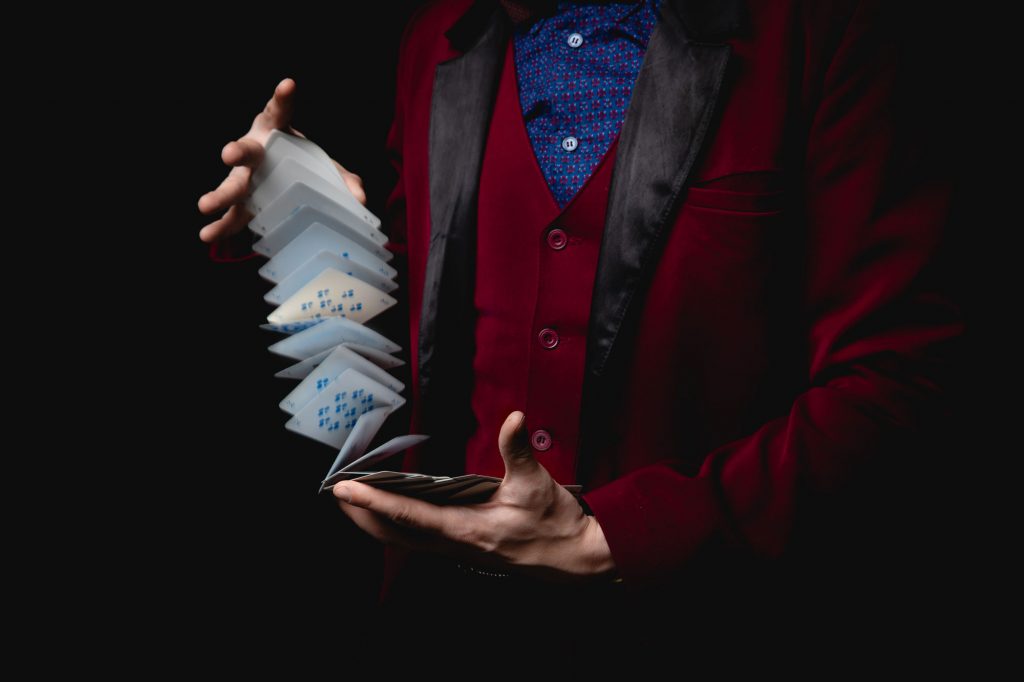 Insured
As much as a magic act doesn't pose much risk to your event or party, it is always a great idea to hire a magician that is insured. More than 50% of the magicians you will find will not be insured. While this is something that is easy to overlook, it is very important that you bring in someone that is insured in order to avoid problems along the way. Always remember that accidents are inevitable. The best thing you can do is mitigate the risk by hiring an insured entertainer. Hiring a magician with no liability insurance is very unwise especially when you consider the magician will be using unsafe props. Hiring a magician that is insured gives you one thing less to worry about during an event or party.
Professionalism
Do you feel comfortable working with the magician? This is a question you need to ask yourself even before you enquire about the rates. If you cannot trust the magician around your kids or guests then it is not worth it hiring him or her. The magician's level of professionalism is what determines if they are ideal for your event or not. You should start by considering the friendliness of the magician on the phone and face-to-face. You also need to do some research to determine if the magician is trustworthy.
Range of acts
Do you want a magician that only performs balloon animal tricks or one that offers an assortment of acts? You definitely want the latter. A magician that only performs a handful of tricks will end up boring your audience. Prior to hiring you need to ask the magician about what you should expect during the show. The magician should be willing to describe the different types of magic he performs and how long they typically last. It is also good to check if the magician has something special for the special guests. For example, if you are inviting the magician for your kid's birthday party he should be able to do a special trick for your child. This could be something as simple as a trick that unveils the main birthday gift.
For how long will the magician be on site?
It is always good to know how long the magician will stay after the show. Professional magicians always stay a little longer with the guests after their performance. You also don't want a magician who will be in a hurry to leave because he has other gigs planned for the day.
Rates
Last but not least you need to know how much the magician will charge. Check if they charge hourly or fixed rates. Comparing their rate with that of other magicians in the region will help determine if he is too expensive.
Never hire a magician for the sake of hiring one. Hire one that will add life to your party. The more research you do on a magician the better.